The holidays can always be challenging when it comes to staying on track, especially with nutrition. 
There seem to be endless amounts of social gatherings and meal based celebrations during this time. Unfortunately, these are often centered around food, making it easy to deviate from what is ideal. 
Weight gain during the holidays happens to many, with some people gaining upwards of 5 to 10 pounds! Even worse is getting far off regular healthy habits, and taking too long to get back on track, leading in a very bad direction. 
Our main goal is to enjoy the holiday fun, but in the right ways to keep from moving backwards. 
Here are some great tips to keep eating healthy during the holidays, especially at social gatherings:
1. Don't be hungry
There is nothing harder than being around a lot of food when you're starving, especially when you're trying to be good. It's much easier to give into temptation when you're hungry, and it's rarely with the right food. 
The best way to manage this is to eat something healthy before you attend a gathering. It does not have to be a whole meal, but at least something to satisfy and curb your hunger. Eating before you go will keep from overeating and making the wrong impulsive decisions. 
2. Bring It!
Often social gatherings during this time are potlucks, which will really help. Control at these times is huge, and the best way to be in control of what you're eating is to bring it. Bonus points if you bring a healthier version of a vice, so you're not tempted by a worse version.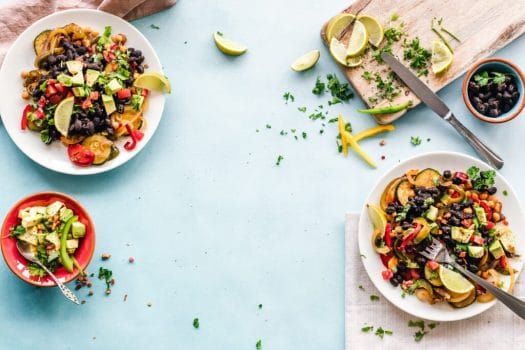 If appetizers or general holiday food is your downfall, finding healthier options are very easy to find now. You can make a Paleo, Whole 30, or more basic version by substituting just a few ingredients. 
If your sweet tooth is dessert, you can make many healthier versions, and sometimes enjoy them even more. Just substituting sugar for more natural forms like coconut sugar, honey, or dates can make a huge difference. 
If being around alcohol or sugary drinks will really tempt you, just bring an alternative drink that you will enjoy. Some make mocktails while others are satisfied by flavored or sparkling water.
3. Take your time 
One of the biggest reasons people gain weight is because they eat too quickly. It takes the body 15-20 minutes to know it's full, making it easy to overeat. This may not show much in one day, but is an easy way to pack on the pounds over time. 
Especially during the holidays, it's best to take your time, enjoy your meal and company, and let your food settle. If you're still needing more food 20 minutes later, then go back for more. 
Just remember, the main objective is to enjoy the holidays, but with a little control. It's never easy to start from scratch after months of checking out completely. 
Do you find it difficult to stay on track with your nutrition? Our Reform Nutrition program provides individual coaching to help you reach your specific goals. 
Contact us at nutrition@crossfitreform.com to schedule a No-Snack Intro.